Here are 20 years of Belmont Stakes trends. What are the average odds and post position of winning horses? How many horses have won both the Kentucky Derby and Belmont Stakes since 1997? Which horses were the biggest Triple Crown Busts?
I've got valuable trends and insights below. Each stat has its own table, chart or graph.
Last Triple Crown Winner: 2015 – American Pharoah, Jockey Victor Espinoza and trainer Bob Baffert combined to end the drought. The previous Triple Crown winner was Affirmed in 1978.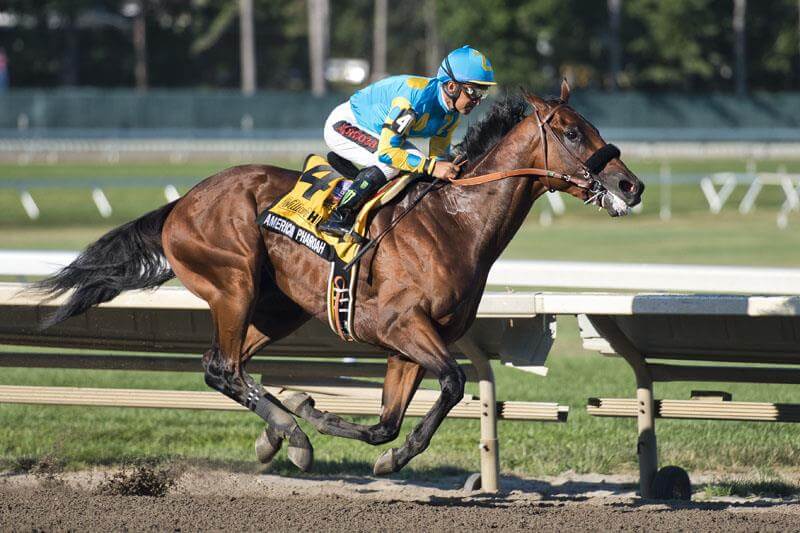 Belmont Stakes Trends 1997-2017 Averages
Belmont Stakes Averages

| Stat | Value |
| --- | --- |
| Starting Horses Per Belmont Stakes | 10.048 |
| Winning Horse Post Position | 6.333 |
| Winning Horse Odds | 14.917 |
Belmont Stakes Graphs 1997-2017
Belmont Stakes Winner Odds Graph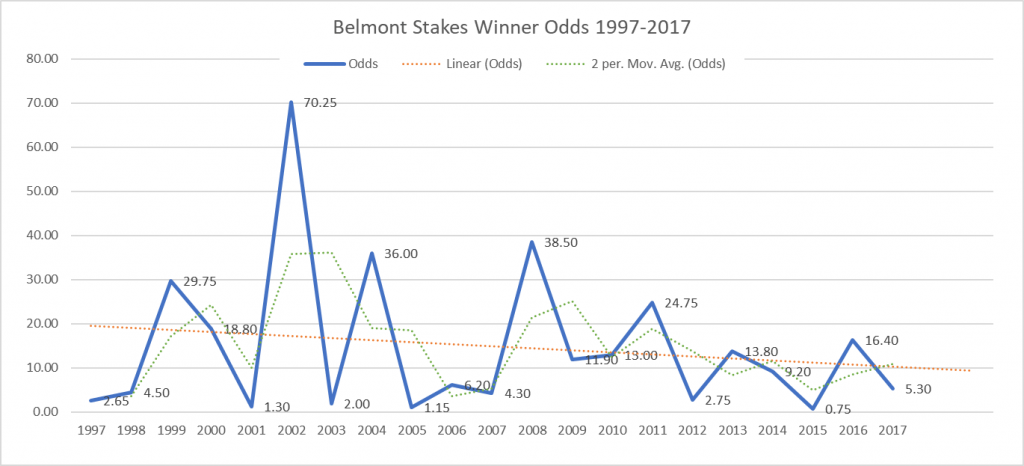 I graphed the odds of each winning Belmont Stakes horse. The overall trend suggests favored horses win more often in recent years. Eliminating Sarava's 2002 long-shot win only confirms the obvious: long-shot victories are rare. On average, horses must start the race at +1300 (14.917) or better to win. Make your picks accordingly!
Belmont Stakes Winner Post Position Graph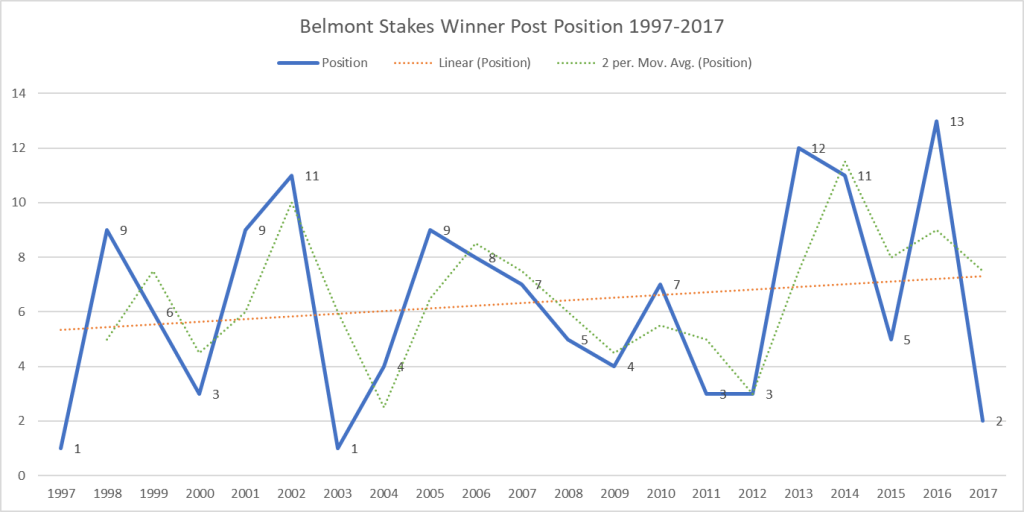 Post position does impact a horse's performance, particularly its start. The winning horse has started at the 6.333 post position between 1997-2017. The most common winning post position is 9.
Belmont Stakes Top Jockeys Graph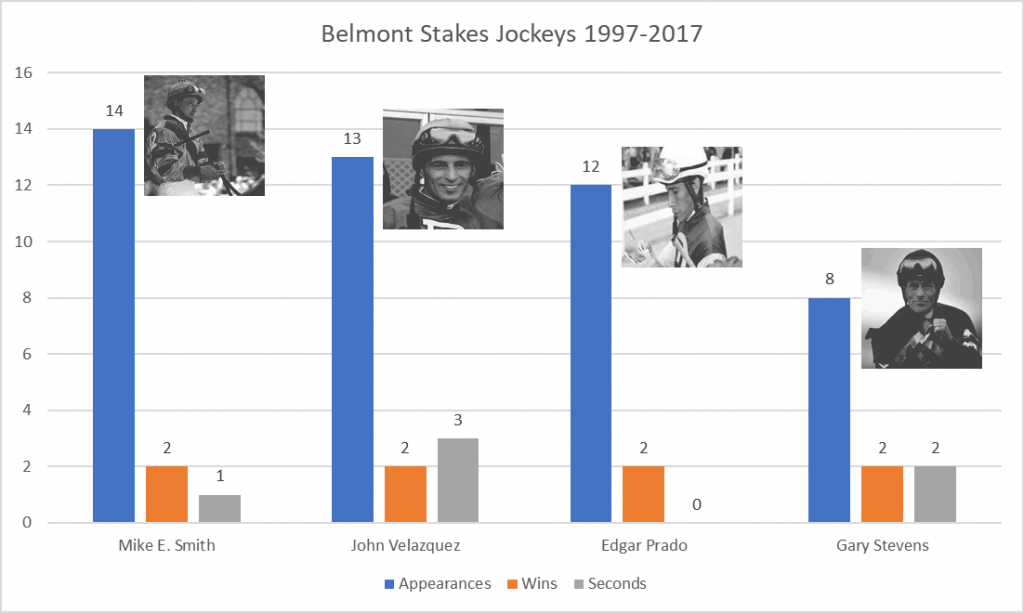 Jockey Mike E. Smith has appeared 14 times in the Belmont Stakes. He and John Velazquez, Edgar Prado and Gary Stevens have each won twice. John Velazquez has finished second 3 times.
Belmont Stakes Top Trainers Graph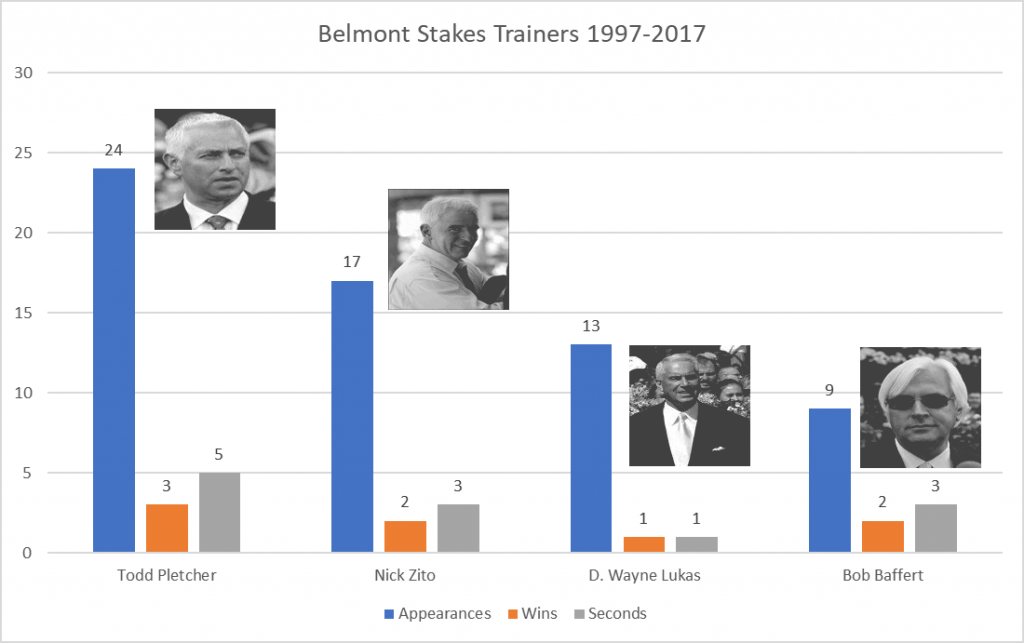 Todd Pletcher has had 24 horses in the Belmont Stakes between 1997-2017. He's won 3 races and placed second 5 times. Bob Baffert has won twice including the 2015 Triple Crown with American Pharoah. Nick Zito and Todd Pletcher have had 41 horses combined in the Belmont Stakes to D. Wayne Lukas and Bob Baffert combined 22 horses. Pound for pound, Baffert has the highest quality horses.
Belmont Stakes Trends Tables 1997-2017
Stat Extremes: Winning Belmont Stakes Horses 1997-2017
Extremes: Winning Belmont Stakes Horses

| Stat | Value | Year | Horse |
| --- | --- | --- | --- |
| Highest Odds | 70.25 | 2002 | Sarava |
| Lowest Odds | 0.75 | 2015 | American Pharoah |
| Highest Post Position | 13 | 2016 | Creator |
| Lowest Post Position | 1 | 1997 | Touch Gold |
| Lowest Post Position | 1 | 2003 | Empire Maker |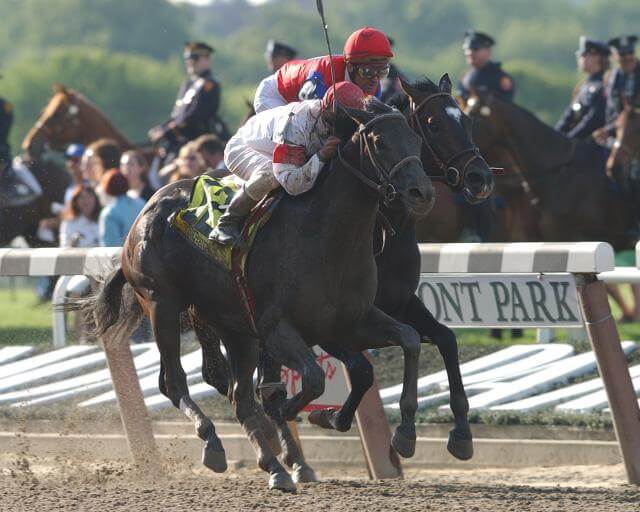 Triple Crown Busts Finish 4th or Worse, 1997-2017
Triple Crown Busts Finish 4th or Worse
Year
Belmont
Finish
Horse
Jockey
Trainer
Odds
Post
2008
9
Big Brown
Kent Desormeaux
Rick Dutrow
0.30
1
2002
8
War Emblem
Victor Espinoza
Bob Baffert
1.25
9
2014
4
California Chrome
Victor Espinoza
Art Sherman
0.85
2
Belmont Stakes Upset Winners, 1997-2017
Belmont Stakes Upset Winners

| Year | Horse | Jockey | Trainer | Odds | Post |
| --- | --- | --- | --- | --- | --- |
| 2002 | Sarava | Edgar Prado | Kenneth McPeek | 70.25 | 11 |
| 2008 | Da'Tara | Alan Garcia | Nick Zito | 38.50 | 5 |
| 2004 | Birdstone | Edgar Prado | Nick Zito | 36.00 | 4 |
| 1999 | Lemon Drop Kid | Jose A. Santos | Flint S. Schulhofer | 29.75 | 6 |
| 2011 | Ruler on Ice | Jose Valdivia, Jr. | Kelly Breen | 24.75 | 3 |
Top Belmont Stakes Jockeys, 1997-2017

Top Belmont Stakes Jockeys

| Jockey | Appearances | Wins | Seconds |
| --- | --- | --- | --- |
| Mike E. Smith | 14 | 2 | 1 |
| John Velazquez | 13 | 2 | 3 |
| Edgar Prado | 12 | 2 | 0 |
| Gary Stevens | 8 | 2 | 2 |
| Kent Desormeaux | 9 | 1 | 2 |
Top Belmont Stakes Trainers, 1997-2017

Top Belmont Stakes Trainers

| Trainer | Appearances | Wins | Seconds |
| --- | --- | --- | --- |
| Todd Pletcher | 24 | 3 | 5 |
| Nick Zito | 17 | 2 | 3 |
| Bob Baffert | 9 | 2 | 3 |
| D. Wayne Lukas | 13 | 1 | 1 |
| Kenneth McPeek | 6 | 1 | 0 |
Belmont Stakes Horses that Won Kentucky Derby, 1997-2017
Belmont Stakes Horses that Won Kentucky Derby
Year
Belmont
Finish
Horse
Jockey
Trainer
1997
2
Silver Charm
Gary Stevens
Bob Baffert
1998
2
Real Quiet
Kent Desormeaux
Bob Baffert
1999
3
Charismatic
Chris Antley
D. Wayne Lukas
2001
3
Monarchos
Jorge Chavez
John Ward Jr.
2002
8
War Emblem
Victor Espinoza
Bob Baffert
2003
3
Funny Cide
Jose Santos
Barclay Tagg
2004
2
Smarty Jones
Stewart Elliott
John Servis
2005
7
Giacomo
Mike E. Smith
John Shirreffs
2008
9
Big Brown
Kent Desormeaux
Rick Dutrow
2009
3
Mine That Bird
Calvin Borel
Bennie L. Woolley, Jr.
2013
3
Orb
Joel Rosario
Claude McGaughey
2014
4
California Chrome
Victor Espinoza
Art Sherman
2015
1
American Pharoah
Victor Espinoza
Bob Baffert
Belmont Stakes Horses that Won Preakness, 1997-2017
Belmont Stakes Horses that Won Preakness
Year
Belmont
Finish
Horse
Jockey
Trainer
1997
2
Silver Charm
Gary Stevens
Bob Baffert
1998
2
Real Quiet
Kent Desormeaux
Bob Baffert
1999
3
Charismatic
Chris Antley
D. Wayne Lukas
2001
1
Point Given
Gary Stevens
Bob Baffert
2002
8
War Emblem
Victor Espinoza
Bob Baffert
2003
3
Funny Cide
Jose Santos
Barclay Tagg
2004
2
Smarty Jones
Stewart Elliott
John Servis
2005
1
Afleet Alex
Jeremy Rose
Timothy Ritchey
2007
2
Curlin
Robby Albarado
Steve Asmussen
2008
9
Big Brown
Kent Desormeaux
Rick Dutrow
2011
5
Shackleford
Jesus Castanon
Dale Romans
2012
D
I'll Have Another
Mario Gutierrez
Doug O'Neill
2013
2
Oxbow
Gary Stevens
D. Wayne Lukas
2014
4
California Chrome
Victor Espinoza
Art Sherman
2015
1
American Pharoah
Victor Espinoza
Bob Baffert
2016
11
Exaggerator
Kent Desormeaux
J. Keith Desormeaux
Belmont Stakes Horses that Won Kentucky Derby & Preakness, 1997-2017
Belmont Stakes Horses that Won Kentucky Derby & Preakness
Year
Belmont
Finish
Horse
Jockey
Trainer
1997
2
Silver Charm
Gary Stevens
Bob Baffert
1998
2
Real Quiet
Kent Desormeaux
Bob Baffert
1999
3
Charismatic
Chris Antley
D. Wayne Lukas
2002
8
War Emblem
Victor Espinoza
Bob Baffert
2003
3
Funny Cide
Jose Santos
Barclay Tagg
2004
2
Smarty Jones
Stewart Elliott
John Servis
2008
9
Big Brown
Kent Desormeaux
Rick Dutrow
2014
4
California Chrome
Victor Espinoza
Art Sherman
2015
1
American Pharoah
Victor Espinoza
Bob Baffert
Winning Belmont Stakes Horses that Won Kentucky Derby, 1997-2017
Winning Belmont Stakes Horses that Won Kentucky Derby
Year
Belmont
Finish
Horse
Jockey
Trainer
2015
1
American Pharoah
Victor Espinoza
Bob Baffert
Winning Belmont Stakes Horses that Won Preakness, 1997-2017
Winning Belmont Stakes Horses that Won Preakness
Year
Belmont
Finish
Horse
Jockey
Trainer
2001
1
Point Given
Gary Stevens
Bob Baffert
2005
1
Afleet Alex
Jeremy Rose
Timothy Ritchey
2015
1
American Pharoah
Victor Espinoza
Bob Baffert
Todd Pletcher's Belmont Stakes Horses, 1997-2017

Todd Pletcher Belmont Stakes Horses
Year
Belmont
Finish
Horse
Jockey
2000
5
Impeachment
Craig Perret
2001
5
Invisible Ink
John Velazquez
2001
8
Balto Star
Chris McCarron
2004
9
Purge
John Velazquez
2006
2
Bluegrass Cat
John Velazquez
2006
3
Sunriver
Rafael Bejarano
2007
1
Rags to Riches
John Velazquez
2008
3
Ready's Echo
John Velazquez
2009
2
Dunkirk
John Velazquez
2010
6
Interactif
Javier Castellano
2011
2
Stay Thirsty
Javier Castellano
2013
12
Midnight Taboo
Garrett K. Gomez
2013
7
Overanalyze
John R. Velazquez
2013
6
Unlimited Budget
Rosie Napravnik
2013
5
Revolutionary
Javier Castellano
2013
1
Palace Malice
Mike E. Smith
2014
2
Commissioner
Javier Castellano
2014
8
Matterhorn
Joe Bravo
2015
8
Materiality
John R. Velazquez
2015
6
Madefromlucky
Javier Castellano
2016
2
Destin
Javier Castellano
2016
5
Stradivari
John Velazquez
2017
1
Tapwrit
Jose Ortiz
2017
3
Patch
John Velazquez
Nick Zito's Belmont Stakes Horses, 1997-2017

Nick Zito Belmont Stakes Horses
Year
Belmont
Finish
Horse
Jockey
1999
5
Stephen Got Even
Shane Sellers
1999
12
Adonis
Jorge F. Chavez
2001
2
A P Valentine
Victor Espinoza
2004
1
Birdstone
Edgar Prado
2004
3
Royal Assault
Pat Day
2005
2
Andromeda's Hero
Rafael Bejarano
2005
4
Indy Storm
Edgar Prado
2005
11
Pinpoint
John Velazquez
2006
6
Hemingway's Key
Jeremy Rose
2007
5
C P West
Edgar Prado
2008
1
Da'Tara
Alan Garcia
2008
3
Anak Nakal
Julien Leparoux
2009
7
Brave Victory
Rajiv Maragh
2009
10
Miner's Escape
Jose Lezcano
2010
2
Fly Down
John Velazquez
2010
8
Ice Box
Jose Lezcano
2015
5
Frammento
Mike E. Smith
D. Wayne Lukas' Belmont Stakes Horses, 1997-2017

D. Wayne Lukas Belmont Stakes Horses
Year
Belmont
Finish
Horse
Jockey
1998
7
Grand Slam
Jerry D. Bailey
1998
10
Yarrow Brae
Mike E. Smith
1999
3
Charismatic
Chris Antley
2000
1
Commendable
Pat Day
2001
7
Buckle Down Ben
Corey Nakatani
2002
5
Proud Citizen
Mike E. Smith
2003
6
Scrimshaw
Gary Stevens
2005
5
A. P. Arrow
Jerry Bailey
2009
5
Luv Gov
Miguel Mena
2009
6
Flying Private
Julien Leparoux
2012
10
Optimizer
Corey Nakatani
2013
2
Oxbow
Gary Stevens
2013
10
Will Take Charge
Jon Court
Bob Baffert's Belmont Stakes Horses, 1997-2017

Bob Baffert Belmont Stakes Horses
Year
Belmont
Finish
Horse
Jockey
1997
2
Silver Charm
Gary Stevens
1998
2
Real Quiet
Kent Desormeaux
1999
7
Silverbulletday
Jerry D. Bailey
2001
1
Point Given
Gary Stevens
2002
8
War Emblem
Victor Espinoza
2006
8
Bob and John
Garrett K. Gomez
2010
4
Game On Dude
Martin Garcia
2012
2
Paynter
Mike E. Smith
2015
1
American Pharoah
Victor Espinoza
References

en.wikipedia.org/wiki/2017_Belmont_Stakes
en.wikipedia.org/wiki/2016_Belmont_Stakes
en.wikipedia.org/wiki/2015_Belmont_Stakes
en.wikipedia.org/wiki/2014_Belmont_Stakes
en.wikipedia.org/wiki/2013_Belmont_Stakes
en.wikipedia.org/wiki/2012_Belmont_Stakes
equibase.com/premium/chartEmb.cfm?track=BEL&raceDate=06/07/97&cy=USA&rn=9
equibase.com/premium/chartEmb.cfm?track=BEL&raceDate=06/06/98&cy=USA&rn=9
equibase.com/premium/chartEmb.cfm?track=BEL&raceDate=06/05/99&cy=USA&rn=9
equibase.com/premium/chartEmb.cfm?track=BEL&raceDate=06/10/00&cy=USA&rn=9
equibase.com/premium/chartEmb.cfm?track=BEL&raceDate=06/09/01&cy=USA&rn=10
equibase.com/premium/chartEmb.cfm?track=BEL&raceDate=06/08/02&cy=USA&rn=10
equibase.com/premium/chartEmb.cfm?track=BEL&raceDate=06/07/03&cy=USA&rn=11
equibase.com/premium/chartEmb.cfm?track=BEL&raceDate=06/05/04&cy=USA&rn=11
equibase.com/premium/chartEmb.cfm?track=BEL&raceDate=06/11/05&cy=USA&rn=11
quibase.com/premium/chartEmb.cfm?track=BEL&raceDate=06/10/06&cy=USA&rn=11
equibase.com/premium/chartEmb.cfm?track=BEL&raceDate=06/09/07&cy=USA&rn=11
equibase.com/premium/chartEmb.cfm?track=BEL&raceDate=06/08/08&cy=USA&rn=11
equibase.com/premium/chartEmb.cfm?track=BEL&raceDate=06/06/09&cy=USA&rn=11
equibase.com/premium/chartEmb.cfm?track=BEL&raceDate=06/05/10&cy=USA&rn=11
equibase.com/premium/chartEmb.cfm?track=BEL&raceDate=06/11/11&cy=USA&rn=11
equibase.com/premium/chartEmb.cfm?track=BEL&raceDate=06/10/12&cy=USA&rn=11
equibase.com/premium/chartEmb.cfm?track=BEL&raceDate=06/09/12&cy=USA&rn=11
equibase.com/premium/chartEmb.cfm?track=BEL&raceDate=06/08/13&cy=USA&rn=11
equibase.com/premium/chartEmb.cfm?track=BEL&raceDate=06/07/14&cy=USA&rn=11
equibase.com/premium/chartEmb.cfm?track=BEL&raceDate=06/06/15&cy=USA&rn=11
equibase.com/premium/chartEmb.cfm?track=BEL&raceDate=06/11/16&cy=USA&rn=11
equibase.com/premium/chartEmb.cfm?track=BEL&raceDate=06/10/17&cy=USA&rn=11