November 3, 2018 4:00 am Breeders Cup Classic - Top 10 Horses
Horses
Odds
$100 Wins
1. West Coast


Bet Now

+700
$700
2. Good Magic


Bet Now

+700
$700
3. Gronkowski


Bet Now

+700
$700
4. Accelerate


Bet Now

+800
$800
5. Hofburg


Bet Now

+800
$800
6. Catalina Cruiser


Bet Now

+1200
$1200
7. Collected


Bet Now

+1600
$1600
8. Audible


Bet Now

+1600
$1600
9. Mckinzie


Bet Now

+1600
$1600
10. Thunder Snow


Bet Now

+1800
$1800
Odds feed last modified: 07/30/2018 18:40:07 Eastern
Join one of our online racebooks to bet on the Breeders Cup. It's fast and easy, and you can use your credit card to deposit in minutes. New customers all get deposit bonuses, so be sure to check out the promotions page at each racebook!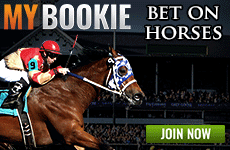 Mybookie Deposit Options:
Visa, Mastercard, Bitcoin, ACH, WU/MG Cash Transfer, Phone Transfer, Bank Wire
Deposit Help: 1-844-866-2387
In 1982, famous horse breeder and racing legend John R. Gaines started the first Breeders Cup Race. Gaines wanted to bring the horse racing business together at the end of the season to show off the best stallions and their offspring. The first Breeders Cup Race was contested at Hollywood Park over 25 years ago.
The Breeders Cup Races are immensely popular among top horse breeders and racing teams because of their purses, which can range from $500,000 to $5,000,000 per race. Horses from all over the world are eligible to race. During the Breeders Cup long history, many competitors from Europe and beyond have laid claim to enormous prize money.
This event also showcases favorites for The Eclipse Awards. These pretigious awards honor the best horse and other champions of the year. In many ways, a good performance at the Breeders Cup Race can seal the deal for some of the world's top horses and their racing teams.
Qualifying for the Breeders' Cup Races
Which horses qualify for this event? There are essentially 3 methods by which horses are ranked and entered:
1. Peformance in Breeders' Cup Challenge Races
2. Ranking by Point System
3. The ranking of each horse subjectively by a panel of major horse racing experts.
In general, a maximum of 14 entries are allowed per race, with some races only allowing 12 participants. All Breeders' Cup Races are considered Grade I thoroughbred racing, which means the competition for end of the year honors is fierce.
2009 Marks the first time in Breeder's Cup History that the race will be held at the same location, Santa Anita Park, for two consecutive years. Churchill Downs has hosted the most Breeders' Cup races in history.
The all-time leaders in Breeders' Cup wins are:
Jockey: Jerry D. Bailey – 15 wins
Trainer: D. Wayne Lukas – 18 wins; Claude R. McGaughey III – 9 wins
Leading money winning owner: Allen E. Paulson – $8,730,000 USD
Breeders Cup Locations: Past, Present and Future
2017 – Del Mar Thoroughbred Club
2016 – Santa Anita Park
2015 – Keeneland
2014 – Santa Anita Park
2013 – Santa Anita Park
2012 – Santa Anita Park
2011 – Churchill Downs
2010 – Churchill Downs
2009 – Santa Anita Park
2008 – Santa Anita Park
2007 – Monmouth Park
2006 – Churchill Downs
2005 – Belmont Park
2004 – Lone Star Park
2003 – Santa Anita Park
2002 – Arlington Park
2001 – Belmont Park
2000 – Churchill Downs
1999 – Gulfstream Park
1998 – Churchill Downs
1997 – Hollywood Park Racetrack
1996 – Woodbine Racetrack
1995 – Belmont Park
1994 – Churchill Downs
1993 – Santa Anita Park
1992 – Gulfstream Park
Nov. 2, 1991 – Churchill Downs
Oct. 27, 1990 – Belmont Park
Nov. 4, 1989 – Gulfstream Park
Nov. 5, 1988 – Churchill Downs
Nov. 21, 1987 – Hollywood Park Racetrack
Nov. 1, 1986 – Santa Anita Park
Nov. 2, 1985 – Aqueduct Racetrack
Nov. 10, 1984 – Hollywood Park Racetrack